Counting blessings
450 - Boy, oh boy! I'm grateful. Bless you Lord for technology, for it allowed me to see this gorgeous little Texan, our grandson Rembrandt, even though we live on the East Coast. I received this picture via my cell phone shortly after his birth on Thursday:
451 - And thank you, for it permits me my weekly chats with his big sister, where I'm able to see her dimples and hear her voice shout, "Hel-lo, Ganny!".
452 - And thank you again, for it enabled me to attend my daughter's baby shower in New Zealand via Skype. She's due in two and a half weeks. Wahooooooo!!
As many of you know who come here often, I work on an 18th century farm, interpreting the life of a woman from that period. I love the old ways...of living history. I often think about the lives of people who immigrated to this country and colonized a new land, and of their children and their children's children, many of whom travelled West.
O Pioneers! I can only imagine what it must have been like--the heartbreaking farewells of those who left loved ones to travel across the country or over the sea, understanding that it might be the last time they would ever "see" each other. Having to wait ages before even hearing from them, or about them, by letter or word of mouth.
Yes, I do love the old ways. I often grumble against machines, and the fast pace of the world today. I've heard some people say that they identify with the past so much that they believe they were "mailed" wrong. But God makes no mistakes. Even though some of my children are far away and the grandbabies are time zones from a kiss and a snuggle, the times I live in have provided me with a way to be there instantly, even if virtually. And we can board airplanes to cover distances in hours that not so long ago would have taken months.
453 - Thank you, God, for knowing me inside out.
454 - Thank you for knowing what my heart can take and what it can't. I was born for such a time as this, in more ways than one.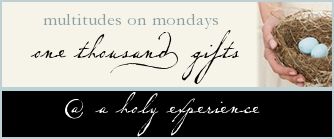 Joining Ann today