My girl and her husband
live at the bottom of the world. My girl is having her first baby. I wish I could be there to pat her belly. I can't. Not yet, anyway. But in the meantime, I'm so grateful for this little film. Her dad and I can't watch it without wiping away tears. Thanks, Rhys and Joy, for generously letting me share this.
And thank you for the video,
Jade
. We pray God will take you far with the talent He has given you. You're already a legend in our house.
So dear friends, please watch this little film and celebrate life with us.
Boy? Girl? from Jade Lee on Vimeo.
399 - celebrating God's blessings
400 - your children's children
401 - technology that shortens the miles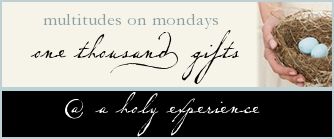 Joining Ann today
and Laura