I was an angry and depressed teen when I first saw the play Our Town by Thornton Wilder. Even though I was too immature to grasp all of its implications, I remember getting a lump in my throat listening to the wistful words of the ghostly Emily who has been given the chance to look back at a day in her short life:
"Good-by, Good-by, world. Good-by, Grover's Corners...Mama and Papa. Good-by to clocks ticking...and Mama's sunflowers. And food and coffee. And new-ironed dresses and hot baths...and sleeping and waking up. Oh, earth, you're too wonderful for anybody to realize you."
She looks toward the stage manager and asks abruptly, through her tears:
"Do any human beings ever realize life while they live it?--every, every minute?
Stage Manager: "No."
[Pause]
"The saints and poets, maybe--they do some."
Saints and poets? The end of the play was a beginning for me, a turn, a thawing, the budding of the teeniest desire to be in their company. Looking back, I can see that God was once again drawing me, urging me to choose life, and while I'm not much of a poet, by His grace and redemption, I know I'll be in that number when the saints go marching in. In the mean time, I'm glad to be very much alive, appreciating the blessings of ordinary moments. Will you join me?
Counting blessings
331 - the carved stone beauty I almost missed because I was grumping about the cold
332 - a favorite corner
333 - potential
334 - final stitches
335 - finished in all its wonky loveliness
336 - hand washables
337 - my old Brown Betty full of hot tea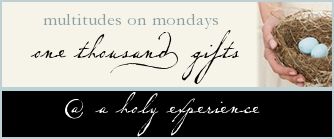 Joining Ann today