"The man is blessed who every day is permitted to behold anything so pure and serene as the western sky at sunset, while revolutions vex the world."
Henry David Thoreau
And yet let me not forget those who suffer revolutions that vex the world. Peace, protection, and freedom we pray. O God, let me never take for granted that I am
permitted
for now the privilege of contemplating a sunset while others dream of peace.
Counting blessings
327 - a whiff of spring
328 - freedom to read what others are free to express
329 - beauty found when looking up
330 - a place that for some reason makes me think of heaven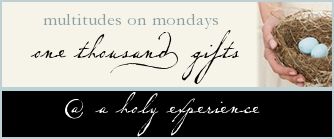 Joining Ann today