For the longest time now, I've wanted to raise honeybees. As I've said before, I am enchanted by all things beeish...honey, beeswax, etc. I've dreamed of being a bee charmer like Idgie Threadgoode in
Fried Green Tomatoes
, or sending the love like August and Lilly in
The Secret Life of Bees
. Finally it happpened. At last I'm realizing this dream and thanking God for creating the marvelous, gentle honeybee. My husband and I had the best time setting up the supers and releasing the little winged lovelies. We didn't get stung once. I did burn myself twice with the smoker. But that was okay. I was too happy to care.
Counting blessings
381 - For meeting Jeff Eckel of We Bee Brothers who provided me with the bees he raised and the equipment I needed. You should visit him
here
. These guys are so cool.
382 - my hive packed up and waiting to go home with their new mama
383 - We Bee Brothers inspirational and amazing urban farm gardens
384 - my frame-filled supers
385 - bringing my Russian/Carniolan babies home
386 - random backyard beauty
387 - bees' new neighborhood
388 - there's veggies to pollenate
389 - flowers to visit
390 - home sweet home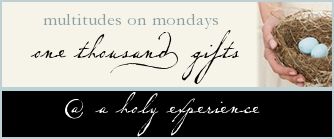 Joining Ann today