"Whatever a man's age, he can reduce it several years by putting a bright-colored flower in his buttonhole."
Mark Twain
Well, tomorrow I'm another year older. Looking back over the past year, there's so much to be grateful for. It hasn't been all smooth sailing, but I choose to count the blessings over the sorrows. It's sort of akin to the bright-colored flower in the buttonhole. Or maybe even better.
I need to count in Linda at
Under the Gables
. Unbeknowst to her, she participated in my birthday doings. Actually in my pre-birthday doings, since I'm known in my family for milking my birthday for all that it's worth. Linda talked on her blog about a Bucks County artist named Fern Coppedge.
I was so captured by the images that I Googled the painter and found out that many of her paintings are here:
Wahoooo! This museum is only an hour and a half from home, in Doylestown, PA. Happy birthday to me! And even better, they were having a special exhibit...
...featuring a collection of the works of Bucks County's finest painters. It was a treat to discover two painters who up to now were unknown to me: Fern Coppedge (1883-1951) and Daniel Garber (1880-1958). Both of these artists have styles that are completely different from one another--Coppedge rich in color; Garber rich in light. Their masterful creations left me swoony and inspired.
The program featured Garber's painting of his daughter, Tanis.
Across the street from the Michener museum is the Mercer Museum. I couldn't resist snapping a photo of the chimneys on the building. Are they cool or what?
Afterwards we took a little Saturday afternoon stroll around town. Oooh, looky here...
B
lack coffee,
B
akery
B
lue
B
erry
B
utter cookie gelato. I love the letter 'B' - as in
B
irthday
This is the face of a happy camper. Yes, I am short.
Riding off into the sunset
Counting
b
lessings
467 - Under the Gables blog - you should visit!
468 - Museum tickets
469 - My generous family
470 - Italian bakeries
471 - Sunsets and the gift of seeing another day
472 - La bella vita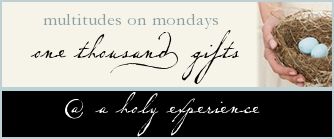 Joining Ann today