Counting blessings
My parents had gotten divorced. My dad would take us every other weekend for "visitation." That's what they called it back then.
On summer weekend mornings, I would wake up before dad, sneak out back, and plant myself on the wooden steps of his yard. The morning sun had made the steps toasty. Still in my pajamas, I'd sit there, eyes closed, hugging myself, enjoying the grassy smell of the air. After a time, I'd get up and wander to the chicken wire fence that separated dad's backyard from the Browns' yard. Morning glories with their sky blue trumpets unfurled wrapped themselves all along the fence. Staring at them, I'd feel the overcoming closeness of something Holy. It eased the hurt.
Then there was the time when I was a kid that I learned to listen to plants talk. Grandmom would water african violets on her window sill. "Watch and listen," she'd say. I'd see water bubbling on top of the potted soil and hear a gurgling sound. "See," she said, "the flower is saying thank you."
With head bowed, I say "thank You".
#492 For good memories still green
#493 backyards
#493 our own grown-up patch of earth that my man and I can tend for a time.
#494 for bees buzzing God song
#495 seed that took
#496 a quiet place to consider things that neither toil or spin.
#497 Romans 8:19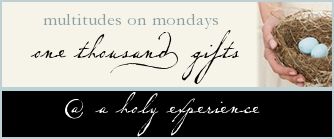 Joining Ann today