To Autumn
Season of mists and mellow fruitfulness!
Close bosom-friend of the maturing sun;
Conspiring with him how to bend and bless
With fruits the vines that round the thatch-eaves run;
To bend with apples the moss'd cottage trees,
And fill all fruits with ripeness to the core;
To swell the gourd, and plump the hazel shells
With a sweet kernel; to set budding more,
And still more, later flowers for the bees,
Until they think warm days will never cease,
For Summer has o'er brimm'd their clammy cells.
~J. Keats
This time of year always makes me think of one of my favorite poets, John Keats. Winter is saved for Robert Louis Stevenson. But anyway, the nip in the air does something funny to my brain, so thoughts and artistic outworkings lean to the mossy, poetical and romantic. Times of being awake and seeing are a blessing. A harvesting. Finding little bits of beauty to be thankful for in the everyday. Life is rich.
Counting blessings
499 - Thankful for my young friend Audrey, who not only shared her awesome recipe, but illustrated it as well. What a treasure!
500 - fair light, fair maid and flags
501 - tonic
502 - the rustle of corn and the clack of kindlng
503 - sunlight on a shelf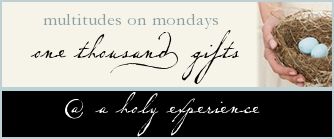 Joining Ann today