"I would make it a rule to eradicate from my patient any strong personal taste which is not actually a sin, even if it is something quite trivial such as a fondness for country cricket or collecting stamps or drinking cocoa. Such things, I grant you, have nothing of virtue in them, but there is a sort of innocence and humility and self-forgetfulness about them which I distrust."
Screwtape speaking to Wormwood in
The Screwtape Letters
, C.S. Lewis
Counting blessings
344 - start with an early morning visit to Aunt Barbie's doughnuts
345 - deciding that a party of three necessitates the purchase of the three-dozen family pack
346 - riding the back roads
347 - while listening to audio books
348 - being made to slow down
349 - giving us time to enjoy the view
350 - then meeting up with friends who invite you to...
351 - a Saint Patrick's Day feast
352 - and dancing home by the light of the moon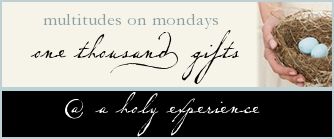 Joining Ann today