"It is no bad thing to celebrate a simple life." So says Bilbo Baggins in the LOTR movie. And being a hobbit of the Tookish sort, I agree.
Counting blessings
410 - A day of baking and chatting with my friend and history buff Steph from
World Turn'd Upside Down
.
411 - things that grow
412 - road trip
413 - misty mountains
414 - destinations
415 - roadside cafes
416 - coconut creme heaven
417 - the end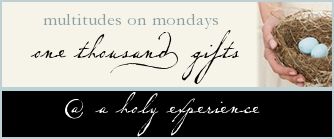 Joining Ann today